Extreme Content Marketing worth €485 million
I was contracted to head the position as Marketing & Communications Director at Volvo Ocean Race. The objective was to grow the engaged audience and to create media value for our sponsors. But most important was – Change!
The event was running for 9 months and the race start was not far away.
I did not know what to expect. But I knew what I wanted. So we made a promo video for inspiration – Join the adventure of a life time:
It got 1.2 million organic views.
Another one we created specifically for the Red Bull Adventure Channel got +4000 shares from their site. 
The Volvo Ocean Race 2014–15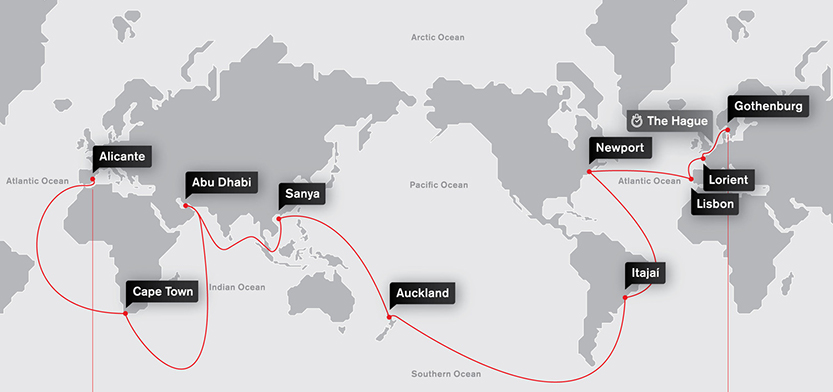 The race started in Alicante, Spain and was around the globe with stop overs in South Africa, Abu Dhabi, China, New Zealand, Brasil, USA, Portugal, France, a pit-stop in The Netherlands and finish in Gothenburg, Sweden.
On identical 65 feet sailing yachts 7 teams were racing: Abu Dhabi Ocean Racing, Team Alvimedica, Team Brunel, Dongfeng Race Team, MAPFRE, Team SCA & Team Vestas wind.
Improve what already worked
One of the first thing I did was to identify what already worked – getting attention in traditional media. Broadcast-, print- and online news. I dedicated a team of 16 employees and consultants to focus on traditional media distribution, i.e we signed a lot of media affiliates using our set of widgets presenting videos, photos, scoreboards, rankings and more.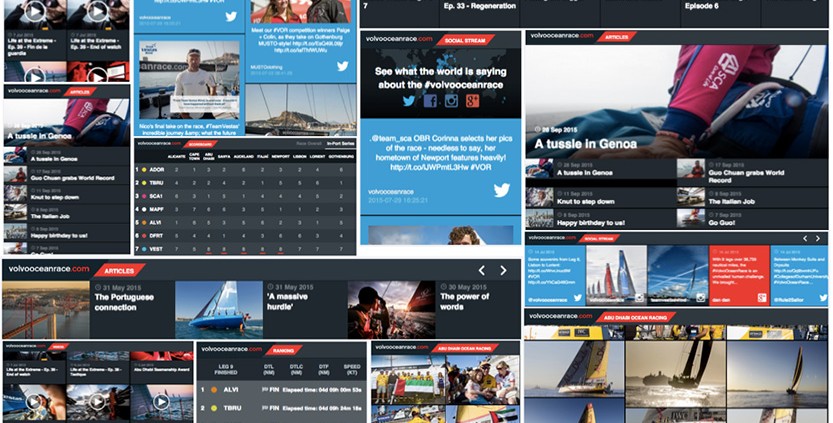 And I challenged my team to work more with marketing PR and online media than Volvo Ocean Race had done before. They got the commission to focus on top quality media in each of the 10 prioritised markets, including China and USA. The team got clear and challenging objectives and delivered like never before. For instance the potential online news audience increased with more than 141% compared to previous race. Among many things getting 28 full size photos and two videos on Mashable helps.  
In print we increased the publicity value with 36% to €48.4 Million while at the same time decreasing the number of print articles with 45.3%. A clear proof that my strategy based on marketing PR, rather than soley rely on news distribution, paid off. Just look at this beautiful full spread in Men's Health, estimated publicity value $250.000.
We had 4.197 acredited media representatives, from 51 countries, in our Race Village. An increase with +42% compared to the previous race. Some of the media that was covering the race:
Huffington Post, Wired, Wall Street Journal, The New York Times, The New Yorker, New York Post, The Financial Times, CNN, Elle, Le Figaro, The Guardian, Outside, El Mundo, El Pais, BBC, CCTV, China Daily, CBS, NBCS, SKY, Telegraph, TV4, La Gazzetta, Forbes, The Weather Channel, Condé Nast, Der Spiegel, Stern, Daily Mail, The National, L'Equipe, Vogue, GQ, La Stampa, ESPN, The Washington Post, Popular Science and thousands more. They wrote more than 76.000 articles that online reached 141% more people than previous race and and aired more than 24.000 broadcasts (+178%) with a publicity value of €293.1 Million (+27%).
Red Bull published a content piece about what it's like to sail a cyclone that was shared more than 21 500 times from their site.
To turn all that attention to engagement I implemented a funnel strategy based on the classic A.I.D.A.S model but here in a digital context: